What is your tool of choice to get design work done on your Mac or pc?
It can undoubtably be said that most people within the creative field would gravitate towards the ever so popular Adobe suit of Illustrator or Photoshop.
There's slowly more choice of software to pick from within this area of creativity, including the Illustrator-like Inkscape (free) and Affinity Designer (not free), Photoshop-ish Gimp (free) and Affinity Photo (not free), with plenty more apps popping up on app stores all the time.
Whether your in need of graphic design and painterly styles, these fit the bill fine, especially when you have the ability to add plug-ins to the mix giving you extra functionality, styles and brushes.
But what about Microsoft Excel I hear you ask? Surely I'm forgetting about this fine piece of creative software!
You may laugh! However, Excel has been the fundamental piece of software used to create a huge number of digital masterpieces by Japanese artist Tatsuo Horiuchi.
At 77 years old, Tatsuo has been using Excel since just before he retired 17 years ago, trying his hand at art. Reluctant to pay for additional tools or software, he decided to use what came free with his computer. It's safe to say that he has the skill and mastery to create truly wonderful pieces of art, from such a basic vector program, intended for graphs and numbers.
Take a look at the short film created by Great Big Story below.
Below are some of Tatsuo's creations for your enjoyment and amazement.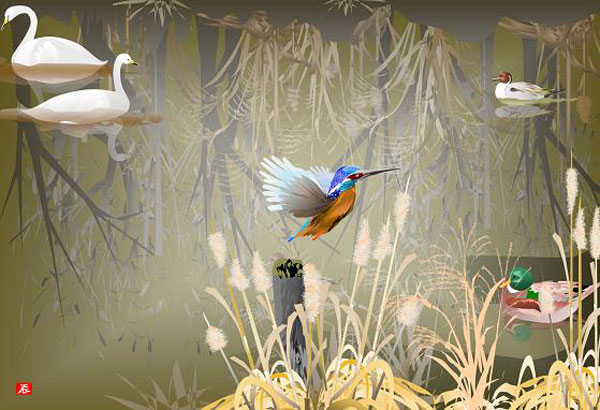 Read more about Tatsuo in an article over on mymodernmet.com